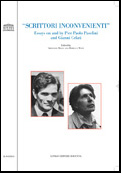 L029015


"Scrittori inconvenienti"
Essays on and by Pier Paolo Pasolini and Gianni Celati. "Susan and Donald Mazzoni" Seminar, 2009
a cura di Armando Maggi - Rebecca West
Il Portico n. 150
pp. 264, ISBN 978-88-8063-633-5 € 20.00



Part 1: Pier Paolo Pasolini, edited by Armando Maggi: E. Kranz, L'evoluzione della voce narrativa da Amado mio a Teorema e Petrolio – J. Blakesley, Accattone a tre dimensioni – R. Palombo Mosca, Lettura di Porcile attraverso le fonti – R. Lacorte, Note per uno studio sulla presenza dei concetti di "traducibilità" e "rivoluzione passiva" di Antonio Gramsci in Petrolio – J.M. Fortney, The dream of the centaur: Reflections on the Sacred and the Bourgeoisie - J.M. Fortney, Pier Paolo Pasolini: The Dream of the Centaur. A partial translation. Part 2: Gianni Celati, edited by Rebecca West: C. Hillman, Celati, Flaiano, and Bartleby, the Scrivener: Refusal as Self-Preservation – E. Webber Porretto, Gianni Celati's Position as Storyteller in Costumi degli italiani – E. Kranz, Una fonte discutibile: La vita provinciale in Amarcord e I vitelloni di Fellini e in Vite di pascolanti di Gianni Celati – G. Celati, Fellini on the Italian Male – R. Palumbo Mosca, Conversazione con Gianni Celati.